SERVING AT SRF CENTRES
Newcomers may be hesitant about how to become a part of the SRF centre activities. Often they may feel that everyone else knows each other well and they are the only "outsiders". This is simply not the case. We are all brothers and sisters in Paramahansa Yogananda's family.
First, by meditating together at the centre, we begin to feel authentic bonds with others, even though often there may be no verbal communication. Come to the meditations and services when you can. Meditating deeply with others is the highest form of service to Guru.
Secondly, we always appreciate extra help in running our centre. You can contribute to our centre in many different ways. Below is a list of the activities you may wish to participate in.
"Meditate so deeply and so ardently every day that you feel God and know that He is real and not just a figment of your imagination. The Lord is true! Perceive Him in Spirit, and you will be able to see Him in every form". — Paramahansa Yogananda

WAYS TO SERVE
Ways if serving at SRF centre:
Ushering
The primary duty of an usher is to show welcome and warmth to all who come, and assist newcomers. Ushers are generally rostered on about once a month. We have ushers who can do both Thursday and Sunday services, and others who can only do one or the other, so we have room for many hands.

Chapel Cleaning
Duties include vacuuming all floor and stairway, dusting of all surfaces, bathroom and kitchen cleaning. Two devotees are rostered on each week, and can choose their own time to do the work (when the Centre is not being used). Each volunteer can expect to be rostered on approximately once every 5 weeks.

Flower Arranging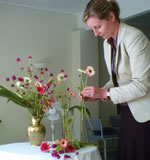 Each week a volunteer would buy and arrange fresh flowers for the altar.
Garland Making:
If you would like to be rostered on to make garlands for special services but don't know how to make them, we are sure there will be people happy to teach you. Volunteers are usually rostered on about twice a year.

Bookroom Assistant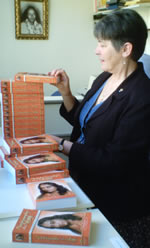 To help with stocktake about 3 times a year, and then help with pricing and putting away new stock etc. You will be working with the Bookroom Convenor.
Flower Giveaway
This is only a small job after Sunday service, but it is important that we have people who would take the responsibility of seeing that it is done. All the flower arrangements have been offerings to the Gurus, and so it is nice to share them amongst a few devotees to take home to their own altars.

Special Services Setting Up
This is usually done at the end of the service that immediately precedes the special service, and involves preparing the Centre for the particular special occasion, which should only take a few minutes for 2 or 3 people.

Special Services Packing up
This is done after meditation is finished and should only take a few minutes for 2 or 3 people.