ABOUT US
Our website is an unofficial Paramahansa Yogananda resource center that includes the essence of his wisdom legacy. We only publish short excerpts from Yogananda's teachings and excerpts from talks by Sri Daya Mata and a few SRF monastics. We also publish short quotes from the Upanishads and Patanjali.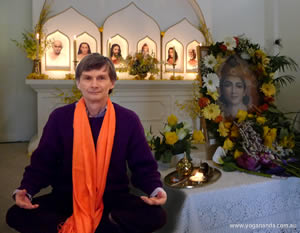 This website is edited by Yanush, Yogananda's disciple and a member of Self-Realization Fellowship for more than 25 years.
We wish you god-speed with your spiritual quest (sadhana) and may you be filled with infinite joy and love of God every moment of your life.
He only is wise
who devotes himself to realizing,
not reading only.
— Lahiri Mahasaya (in Autobiography of a Yogi)
If you want to benefit more from this website please read "The Best Way To Benefit". More...
God Bless you!

For any SRF membership matters, the location of SRF Centers and the purchase of SRF books and CDs please visit SRF website: yogananda-srf.org