« New Content on our Website»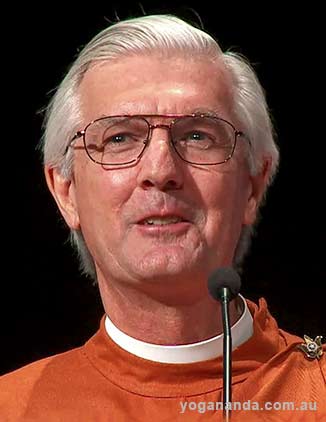 And he [Yogananda] said,
"Remember, remember, this world is an imperfect place. Don't be afraid of disasters. They come only to bring out the hidden strength of spirit within you. This life is like a furnace of flame in which the dross that surrounds our souls is to be burned and purified so that the steel of God's strength and wisdom can come forth."
He said,
"When sufferings or trials come just say, 'I realize that this is the Divine Hand of God that is molding me into his immortal child."
Brother Chidananda has been elected president and spiritual leader of Self-Realization Fellowship/Yogoda Satsanga Society of India on August 30, 2017.
Brother (Swami) Chidananda has been a monk of Self-Realization Fellowship (SRF) for forty years, and a member of the SRF and YSS Boards of Directors for the last eight years. Almost from the start of his monastic life, he had worked closely with Sri Mrinalini Mata, receiving her wisdom-permeated, Guru-attuned training as he assisted her in the editing and publishing of the works of Paramahansa Yogananda and other SRF publications.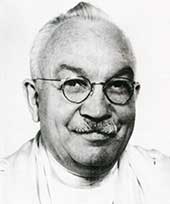 by Dr. M.W. Lewis
God is Love and when you feel that, when you feel that in your heart, when all the cells of your body vibrate to that vibration, you will know, "God is Love," as the scriptures say. Every particle of your being, every cell will vibrate to that high vibration of Divine Love when you merge in Him. Having that, ... you can give something real to people. You can really serve God in all.
1st John, the 4th Chapter, 7th Verse:
"Beloved, let us love one another: for love is of God; and every one that loveth is born of God..."
Now, that doesn't mean just worldly emotion, but really feels that common Father in each and every one of us. So, "...every one that loveth is born of God, and knoweth God." That's the important thing.
Realize you do know God,
if you love God.
You know Universal Love when you feel God's Presence in all creation. So, there you have a perfect barometer to know where you stand. If, in spite of all the mean things that are done to us, and the disreputable things, we feel God's Love, even in those who are doing those things to us, and you have God's Presence, what do you care what they do? Karma will catch up with them.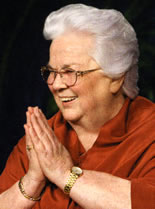 by Sri Mrinalini Mata
First, during your period of study, take whatever text you are focusing on for that day — whether it is one of the SRF Lessons, or a chapter from Autobiography of a Yogi, or some-thing else from Master's writings — and read that text entirely through to get its general meaning and import and significance.
[Second] Then go back and start reading a second time through. As you go through the second time, highlight or underscore the key points if you wish. And make written notes: write in a study notebook a list of the important points you come across as you read. Additionally, write out separately any questions that might arise during your reading.

by Sri Mrinalini Mata
Real introspection means to examine not only our actions and reactions, but to go deeper, down into our attitudes and underlying motives. We should analyze not just what we have done during the day, not only what we have been able to control outwardly, but what was below that: "What was my motive? I might have said or done the right thing to such-and-so, but was my motive truly pure? Was my attitude toward that person or situation the right one?" …

Brother Lawrence was born Nicolas Herman in 1610 in eastern France. ... Brother Lawrence spent the last 40 years of his life in the practice of the presence of God — that is, in silent and intimate conversation with Him. His letters and conversation with him became the basis for the book, The Practice of the Presence of God.
Brother Lawrence said that in order to form a habit of conversing with God continually and referring all we do to Him, we must at first apply to Him with some diligence. Then, after a little care, we would find His love inwardly excite us to it without any difficulty.

This teaching should be preserved
to be given to humanity for redeeming humanity.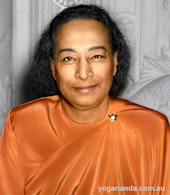 It is His voice that is speaking through me.
If only one person responds and finds his freedom in Spirit,
my task is done.

— Paramahansa Yogananda