Paramahansa Yogananda
Best 16 Spiritual Tips (1)

1. Be Conscious of What You Do
The trouble with most people is that when they are performing an action they are thinking about something else. They don't know how to concentrate on what they are doing when they are doing it.
You should learn to think of one thing at a time
with all the power of your mind.
Your whole attention should be there.
Don't drag along. Doing things in a lackadaisical way leads to failure and misery.
Man should not be a psychological automaton, like the animal, which acts only through instinct. To be unthinking is a great sin against Spirit, which abides in you;
we are meant to be conscious of what we do.
We should reflect before we act.
We should learn how to use our minds so that we can evolve and realize our oneness with the Creator. Everything we do should be the result of premeditated thought. (me)

The yogi masters the art of mind control. He shuts off mental restlessness and imagination, and avoids absentmindedness by practice of the following:
(a) passivity, or even-mindedness under all conditions;
(b) positive concentration (keeping the mind on one particular thought at a time);
(c) negative concentration (using discrimination and will to eliminate unwanted thoughts);
(d) transferring consciousness from feeling to will or ideas;
(e) transferring consciousness from emotions, such as love or hatred, to self-control, or creative thinking, or pure feeling;
(f) holding the thought on one sensation (sight, sound, smell, taste, or touch) at a time;
(g) visualization of mental images, and creating and dissolving dreams at will;
(h) mental anesthesia (receiving sensations of pain as informative reports rather than experiences of suffering). (dr)

Anything worth doing,
is worth doing well.

2. Do Everything with the Attitude of Love —
Love for God and for God in All
Whatever I do,
I do with the greatest love that I have in me.
Try this, and you will see that you do not become fatigued at all. Love is one of the greatest stimulants to the will. Under the influence of love the will can do almost anything.
Do everything with the attitude
of love — love for God
and for God in all.
It is hard for the ordinary person to tell the difference between a desire for others' good and a desire to satisfy self-love. Often one who is well-intentioned in caring for others is carried away instead by self-love. When the desire for self-interest is gone completely from the consciousness, and the only desire is to serve others and do the highest good for all, that is wisdom. It is very difficult to do, but when selfish love completely goes, then one tastes divine love. (jt)

The satisfaction of love is not in the feeling itself, but in the joy that feeling brings. Love gives joy. We love love because it gives us such intoxicating happiness. So love is not the ultimate; the ultimate is bliss. God is Sat-Chit-Ananda, ever-existing, ever-conscious, ever-new Bliss. We, as soul, are individualized Sat-Chit-Ananda.
"From Joy we have come, in Joy we live and have our being, and in that sacred Joy we will one day melt again." (Taittiriya Upanishads 3.6.1)
All the divine emotions—love, compassion, courage, self-sacrifice, humility— would be meaningless without joy. Joy means exhilaration, an expression of the ultimate Bliss. (dr)

The world as a whole has forgotten the real meaning of the word love. Love has been so abused and crucified by man that very few people know what true love is.
Just as oil is present in every part of the olive, so love permeates every part of creation. (dr)

True love is divine, and divine love is joy. The more you meditate, seeking God with a burning desire, the more you will feel that love in your heart. Then you will know that love is joy, and joy is God. (dr)

Many human beings say "I love you" one day and reject you the next. That is not love. One whose heart is filled with the love of God cannot willfully hurt anyone. When you love God without reservation, He fills your heart with His unconditional love for all. That love no human tongue can describe. (me)

I sought love in many lives. I shed bitter tears of separation & repentance to know what love is. I sacrificed everything, all attachment & delusion, to learn at last that I am in love with Love - with God - alone. Then I drank love through all true heart. I saw that He is the one Cosmic Lover, the One Fragrance that permeates all the variegated blossoms of love in the garden of life. (dr)

Be afraid of nothing. Hating none, giving love to all, feeling the love of God, seeing His presence in everyone, and having but one desire—for His constant presence in the temple of your consciousness—that is the way to live in this world. Those who have other desires will not know true satisfaction. (me)

That love must be sincere; when it comes from the heart, love is magical. You should not look for the effects; even if your love is spurned, pay no attention. Give love and forget. Don't expect anything; then you will see the magical result. (me)

Love is a universal emotion; its expressions are distinguished by the nature of the thought through which it moves. Hence, when love passes through the heart of the father, fatherly consciousness translates it into fatherly love. When it passes through the heart of the mother, motherly consciousness translates it into motherly love. When it passes through the heart of the lover, the consciousness of the lover gives that universal love still another quality. It is not the physical instrument, but the consciousness through which the love moves that determines the quality of love expressed. Thus a father may express motherly love, a mother may express friendly love, a lover may express divine love. (dr)

(21) The aforesaid Unmanifested, the Immutable Absolute, is thus called the Supreme Goal. Those who attain it. My highest state, undergo no more rebirth.

(22) By singlehearted devotion, O son of Pritha (Arjuna), that Supreme Unmanifested is reached. He alone, the Omnipresent, is the Abode of all creatures.
—The Bhagavad Gita VIII:21-22
The sole gift a human being may present to the Infinite Giver is love. To bestow that gift on God, or miserly to withhold it, is man's only private power. All else already belongs to the Maker of heaven and earth. By pure humble bhakti man becomes fit to enter even the ultimate haven, the Immutable and Unmanifested.

God is
the life behind your life,
the sight behind your eyes,
the taste behind your tongue,
and the love behind your love.
To realize this to the fullest extent is Self-realization. Without God's power you can do nothing. If you always hold this thought, you cannot go wrong, because you will have purified the temple of your mind and your soul with the vibrations of God. (os)

3. Meditate to Find Real Joy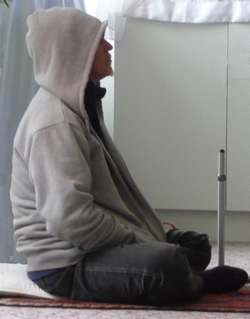 When you sit in the silence of deep meditation, joy bubbles up from within, roused by no outer stimulus. The joy of meditation is overwhelming. Those who have not gone into the silence of true meditation do not know what real joy is. (dr)

The joy felt in meditation reveals the presence of Eternal Joy spread over all creation. The light seen in meditation is the astral light* from which our tangible creation is made. Beholding this light, one feels a unity with all things. (me)
(* The subtle light emanating from lifetrons; the structural essence of the astral world. Through the all-inclusive intuitive perception of the soul, devotees in concentrated stares of meditation may perceive the astral light, particularly as the spiritual eye.)

Meditate with patience and persistence.
In the gathering calmness, you will enter the realm of soul intuition. Through-out the ages, those beings who attained enlightenment were those who had recourse to this inner world of God-communion. (jt)

Meditation involves the withdrawal, through the spine, of life current from the sensory nerve branches, and the concentration of that accumulation of life force within the spherical spiritual eye. A straight spine and erectness of the neck and head are important in effective meditation. (bg)

Meditate
—experience the glory
and the joy it brings!
Nothing else can give you that experience. See if it isn't true. (me)

Meditation shows us the way to this inner freedom. (dr)

The only way one can permanently establish himself in the inner evenness of yoga is by meditation. (bg)

By meditation you can experience that holy state of mind when you are awake, and be constantly immersed in healing peace. (me)

Meditation must be practiced every day. Start now! Do not look to the future. Begin this very moment to think of God. (me)

Meditation
provides the proof of
God's Existence.

Go to your room and shut the door—make no fuss.
Sit down and talk to God.
Practice meditation.
Let your mind become so intense that the next time you sit to meditate you won't have to make the effort; your mind will be fixed immediately on Him.
If you don't make a great effort to conquer physical and mental restlessness in the beginning, you will have difficulty every time you meditate throughout the years. But if you make that supreme effort at the start, you will soon be happy and free. (me)

To find God, one should meditate every morning and night, and whenever there is a little spare time during the day. In addition, it is important to meditate for six hours on one day out of the week. This is not unreasonable; some people practice at the piano for ten hours every day of the week, and think nothing of it. To become a spiritual master, it is necessary to give more time to God. We have to make Him feel that we love Him more than anything else. (me)

The true practice of religion is to sit still in meditation and talk to God. But you don't get to that point of intensity, you don't concentrate enough, and that is why you remain in delusion. (me)

Practice meditation for one hour in the morning and one hour at night, following the scientific methods taught by the great masters of Self-Realization Fellowship. (me)

Meditation is the effort to realize and express that pure consciousness which is the reflection, or image, of God within you. (dr)

The true state of meditation is oneness of the meditator with the object of meditation, God. It is superior to the preliminary meditative state of theoretical wisdom—knowledge attained through divine perceptions in meditation by the devotee who is an observer apart from his experience— the knower who is knowing the thing to be known. (bg)

Make today's meditation deeper than yesterday's, and tomorrow's deeper than today's. (bg)

References:
(aoy) — Autobiography of a Yogi by Paramahansa Yogananda
(bg) — God Talks with Arjuna: The Bhagavad Gita by Paramahansa Yogananda
(dr) — The Divine Romance by Paramahansa Yogananda
(jt) — Journey to Self-Realization by Paramahansa Yogananda
(me) — Man's Eternal Quest by Paramahansa Yogananda
(os) — Other Sources... Talks, Booklets
(sc) — The Second Coming of Christ by Paramahansa Yogananda
(sm) — Self-Realization Magazines