Sri Daya Mata in Jagannath Temple at Puri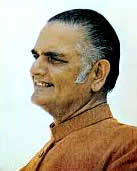 Swami Shyamananda was general secretary
of Yogoda Satsanga Society of India, an office he held until his passing in 1971. Below is recollection of his pilgrimage to the Jagannath Temple at Puri with Sri Daya Mata in 1958.
Sri Daya Mata at Jagannath Temple at Puri
by Swami Shyamananda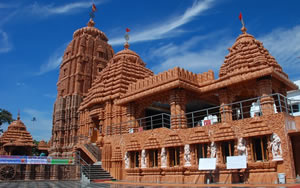 Jagannath Temple at Puri is considered one of the holiest Temples in India. It held a special reverential place in Shyamananda's heart. He had made pilgrimages there many times, and his meditations in its sacred environment had always been deeply blessed. By special concession granted by His Holiness Sri Shankaracharya Bharati Krishna Tirtha, Sri Daya Mata was the first American ever to be allowed to enter Jagannath Temple. Shyamananda was in her party that day.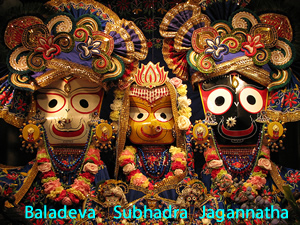 As she meditated before the altar — on which are images of Krishna in the aspect of Jagannath, Lord of the Universe; his sister Subhadra, and his brother Balarama — she went deep into an ecstatic state, becoming totally oblivious of all around her. Shyamanandaji related his own experience at that time:
"I stood at a distance on one side, against the wall, watching Ma in meditation. Suddenly her form began to disappear into light I looked at Jagannath's image on the altar, then back to Ma, and again at the altar; several times I did this, shaking my head to be sure I was not imagining. I knew they were One! This experience continued for a long time, then gradually Ma's form began to reappear. After a while she got up and left the temple.
The Same Event as Described by Sri Daya Mata Herself
Through the intercession of the late Shankaracharya of the Gowardhan Math in Puri, my companions and I were permitted to enter. And in that temple I had an overwhelming experience of the presence of God. (from God-Communion: The Thread Uniting All Religions)

Sri Daya Mata Life in Pictures