Paramahansa Yogananda
— in the West
A Pioneer of Yoga in the West
Over the next decade, Yogananda traveled and lectured widely, speaking to capacity audiences in many of the largest auditoriums in the country — from New York's Carnegie Hall to the Los Angeles Philharmonic.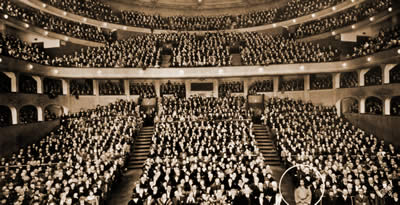 The Los Angeles Times reported: "The Philharmonic Auditorium presents the extraordinary spectacle of thousands... being turned away an hour before the advertised opening of a lecture with the 3000-seat hall filled to its utmost capacity. Swami Yogananda is the attraction. A Hindu invading the United States to bring God in the midst of a Christian community, preaching the essence of Christian doctrine."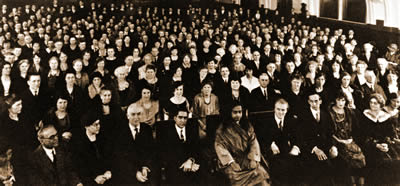 Yogananda emphasized the underlying unity of the world's great religions, and taught universally applicable methods for attaining direct personal experience of God. To serious students of his teachings he introduced the soul-awakening techniques of Kriya Yoga, a sacred spiritual science originating millenniums ago in India, which had been lost in the Dark Ages and revived in modern times by his lineage of enlightened masters.


Yogananda Returns to India (1935-1936)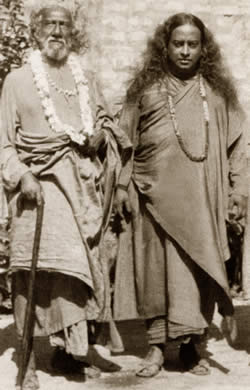 In 1935, Yogananda began an 18-month tour of Europe and India.
During his year-long sojourn in his native land, he spoke in cities throughout the subcontinent and enjoyed meetings with Mahatma Gandhi (who requested initiation in Kriya Yoga), Nobel-prize-winning physicist Sir C. V. Raman, and some of India's renowned spiritual figures, including Sri Ramana Maharshi and Anandamoyi Ma.
It was during this year also that his guru, Swami Sri Yukteswar, bestowed on him India's highest spiritual title, Paramahansa. Literally supreme swan (a symbol of spiritual discrimination), the title signifies one who manifests the supreme state of unbroken communion with God.