Meditate to Find Real Joy
8. Meditate to Find Real Joy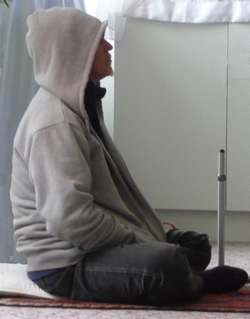 When you sit in the silence of deep meditation, joy bubbles up from within, roused by no outer stimulus. The joy of meditation is overwhelming. Those who have not gone into the silence of true meditation do not know what real joy is. (dr)

The joy felt in meditation reveals the presence of Eternal Joy spread over all creation. The light seen in meditation is the astral light* from which our tangible creation is made. Beholding this light, one feels a unity with all things. (me)
(* The subtle light emanating from lifetrons; the structural essence of the astral world. Through the all-inclusive intuitive perception of the soul, devotees in concentrated stares of meditation may perceive the astral light, particularly as the spiritual eye.)

Meditate with
patience and
persistence.
In the gathering calmness, you will enter the realm of soul intuition. Through-out the ages, those beings who attained enlightenment were those who had recourse to this inner world of God-communion. (jt)

Meditation involves the withdrawal, through the spine, of life current from the sensory nerve branches, and the concentration of that accumulation of life force within the spherical spiritual eye. A straight spine and erectness of the neck and head are important in effective meditation. (bg)

Meditate
—experience the glory
and the joy it brings!
Nothing else can give you that experience. See if it isn't true. (me)

Meditation shows us the way to this inner freedom. (dr)

The only way one can permanently establish himself in the inner evenness of yoga is by meditation. (bg)

By meditation you can experience that holy state of mind when you are awake, and be constantly immersed in healing peace. (me)

Meditation must be practiced every day. Start now! Do not look to the future. Begin this very moment to think of God. (me)

Meditation
provides the proof of
God's Existence.

Go to your room and shut the door—make no fuss.
Sit down and talk to God.
Practice meditation.
Let your mind become so intense that the next time you sit to meditate you won't have to make the effort; your mind will be fixed immediately on Him.
If you don't make a great effort to conquer physical and mental restlessness in the beginning, you will have difficulty every time you meditate throughout the years. But if you make that supreme effort at the start, you will soon be happy and free. (me)

To find God, one should meditate every morning and night, and whenever there is a little spare time during the day. In addition, it is important to meditate for six hours on one day out of the week. This is not unreasonable; some people practice at the piano for ten hours every day of the week, and think nothing of it. To become a spiritual master, it is necessary to give more time to God. We have to make Him feel that we love Him more than anything else. (me)

Practice meditation for one hour in the morning and one hour at night, following the scientific methods taught by the great masters of Self-Realization Fellowship. (me)

Meditation is the effort to realize and express that pure consciousness which is the reflection, or image, of God within you. (dr)

The true state of meditation is oneness of the meditator with the object of meditation, God. It is superior to the preliminary meditative state of theoretical wisdom—knowledge attained through divine perceptions in meditation by the devotee who is an observer apart from his experience— the knower who is knowing the thing to be known. (bg)

Make today's meditation deeper than yesterday's, and tomorrow's deeper than today's. (bg)

References:
(aoy) — Autobiography of a Yogi by Paramahansa Yogananda
(bg) — God Talks with Arjuna: The Bhagavad Gita by Paramahansa Yogananda
(dr) — The Divine Romance by Paramahansa Yogananda
(jt) — Journey to Self-Realization by Paramahansa Yogananda
(me) — Man's Eternal Quest by Paramahansa Yogananda
(os) — Other Sources... Talks, Booklets
(sc) — The Second Coming of Christ by Paramahansa Yogananda
(sm) — Self-Realization Magazines